History of Loudoun County
Unison Preservation Society

Originally called Union when established in 1813, its name was changed to Unison after the American Civil War. Although it originally contained only 20 acres, it now generally encompasses a much larger area that takes in properties in the surrounding rural landscape.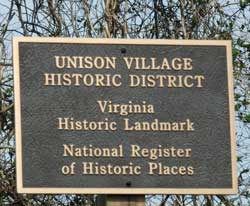 Unison sits along County Route 630, winding through the western part of Loudoun County. The route is a back road path through Loudoun Valley spanning just short of the distance between Snickersville Turnpike near Philomont and Ashby's Gap Turnpike (modern U.S. 50) near Upperville.
During the Civil War, the village was the scene of a pitched fight between forces under J.E.B. Stuart and Union cavalry, infantry and artillery in what is now known as the Battle of Unison.
At the beginning of the 20th century it was virtually a town with its own churches, general store, and a saddle shop. The last retail enterprise, the Unison Store, a general store, closed in August 1996, and has since become an office space. Unison was designated a National Historic District on the National Register of Historic Places in 2003.