Loudoun County Milling Company
Family Saga Is Hardly Run-of-the-Mill
by Eugene Scheel
A Waterford historian and mapmaker.
Located at
39098 Irene Rd
Hamilton, VA 20158
540-338-7161
Carrying general animal feed, fences and gates, landscaping, masonry materials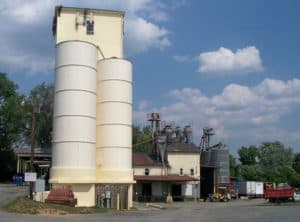 For the past century, business at Loudoun County Milling, on the outskirts of Hamilton, has been a family affair. Like many mills, it stood by a railroad, the Washington & Old Dominion. It is one of the Virginia Piedmont's few operating mills and one of the oldest. In 1907, it was bought and enlarged for Samuel Edgar Rogers, a farmer and merchant who had begun investing in mills at age 55 in 1900.
Within 13 years, Rogers and his children would own four mills, one in Washington and three in upper Loudoun County along the railroad, today the W&OD bicycle path.
To talk about Rogers's life and legacy, I recently met with two of his grandsons, Sam and Dick Rogers, and a great-grandson, Joe Rogers Jr., at Loudoun County Milling, managed by Joe Jr. since 1985. I also conversed several times with the senior grandchild of Samuel Edgar Rogers, Esther Rogers Cowart, 94, of Charlottesville. She worked at the mill for 30 years; Sam and Dick put in their time, as well.
"The whole family has always been involved," Cowart said, adding that when she was 7, in 1922, she invested $300 from saved Christmas and birthday gifts to buy shares of family-held stock in Willkins-Rogers, the corporate name for the Rogers mills, which today number four.
The Rogers family line had farmed in upper Loudoun since 1742, when Loudoun was part of Fairfax County, which had been carved from Prince William County that year. A later Rogers spread was near Bloomfield, where Samuel Edgar Rogers's father died when he was 2, in 1847. "Mother and child then became extremely close," Cowart said. His four other siblings were then younger than 9.
In September 1861, shortly after the start of the Civil War, Samuel Edgar Rogers enlisted in the Confederate Army at age 16. He fought throughout the war and was captured near Burke Station, in Fairfax, on April 10, 1865, one day after Gen. Robert E. Lee had surrendered to Gen. Ulysses S. Grant.
Rogers's horse made it home before he did. Rogers belonged to John Mosby's partisan ranger band and did not know whether it had surrendered. Nearly three months had gone by before he found out that it had disbanded April 21. Only then did he take the oath of allegiance to the United States, a prerequisite for repatriation.
Rogers then returned to Edgewood, south of Hamilton, and farmed for 19 years. In 1872, his ailing mother named him executor of the family estate, despite his having two older brothers. After his mother died in 1874, Rogers spent years managing family affairs and helping the household of a blind sister, who died in 1882. Only after family matters were set straight did Rogers test the retail waters. He opened a mercantile store, S. E. Rogers & Co., in Hamilton in the early 1880s but continued farming. He had become dissatisfied with local milling operations, and with his partner, John Chamblin, built his first mill at age 55 in Hamilton in 1900, a combination gristmill and sawmill powered by a gasoline engine. The mill, which was on the site of the present Baptist Church parking lot, burned in 1913.
Rogers soon realized that the future of Loudoun milling lay along the railroad in the rich agricultural heartland of the Loudoun Valley. At rail stops, buyers and sellers of grain and livestock usually agreed upon prices before shipping. So, in 1907, he bought and enlarged the mill at Hamilton Station, officially called Irene, the post office name. The same year, he bought mills by the railroad in Purcellville and Round Hill. He could now set prices for milling grain, mixing feed and storing the bagged produce for resale.
Each milling complex also had pens to hold livestock before it was sold or for shipping to larger Washington markets; stowage fees brought in extra income.
In 1913, in order to be close to the commodities markets in Washington – markets that often determined the price of Piedmont grains – he bought the water-powered Cissell Mill in Georgetown by the Potomac River, and he and partner John Wilkins formed the firm Wilkins-Rogers.

The Purcellville, Round Hill and Washington mills produced flour from wheat by the roller process, in which the grain is refined between corrugated rollers. This process produced a finer and whiter flour than the few remaining water-powered mills that ground grain between rough-hewn burrs. Shortly after Rogers's death at 76 in August 1921, Wilkins-Rogers expanded its Loudoun holdings by purchasing the Paeonian Springs mill and the Bluemont mill and grain elevator. Wilkins-Rogers now owned every mill by the railroad west of Leesburg.
A 1922 company charter stated that it was in the business of "buying, selling, dealing in grain and flour, hay, and farm produce," as well as the "general commission and brokerage business" and "general storage business."
The Georgetown mill burned in 1922, and Wilkins-Rogers rebuilt and enlarged the brick structure, its mass, now concrete, growing larger with the years. Sam Rogers, its longtime manager, told me its Washington Flour was a staple during the June 1948 to September 1949 Berlin airlift, when the United States, Britain and France supplied West Berlin with food after the Soviets blocked autobahns and rail and water routes.
In 1977, when the real estate value of riverfront acreage surpassed its manufacturing value, Wilkins-Rogers sold the complex. Today, Sam Rogers said, residential condominiums on the site are called the Flour Mill. The mill building has been renovated into offices. The machinery was reinstalled in a renovated Rogers mill in Maryland at Ellicott City, its flour keeping the Washington Flour brand name.
West of Washington, in the Depression years of the 1930s, the Washington & Old Dominion Railroad neglected the upkeep of its tracks and rolling stock, and the Rogers family realized the railroad was on its way out. The Paeonian mill had burned in 1929. A decade later, the railroad abandoned its tracks west of Purcellville. By 1954, Wilkins-Rogers had closed or sold all its Loudoun mill holdings except for the Hamilton Station mill, which mixed and sold Grown-Big Hog Meal and Loudoun Supreme Feed for livestock and dairy cows. Dairying had been a staple of Loudoun's economy since the late teens.
Dairying prompted a yearly mill gala -- "the Blowout," as Dick Rogers remembered locals calling it when he worked at the mill as a teen in the 1940s. Its official name was the Annual Dairyman's Dinner, held in early October, when the finest of Chesapeake Bay oysters were ready for eating, and the time was ripe for politicking.
"We started frying them at three o'clock in the morning," Esther Rogers Cowart vividly recalled. Her mother, Beulah Corbin of Waterford, was the organizer and chief cook of this 1930s and 1940s event. Cowart, who helped mail out the guest list, told me from 400 to 475 regularly attended, seated at long tables inside the spotless mill. The menu was standard for Piedmont festivities during oyster season: the fried oysters, ham, coleslaw, biscuits, apple pie and coffee.
Invited bigwigs were heads of the Virginia and Maryland dairy industry and the Washington Board of Trade, and politicians up to the U.S. Senate level. For Howard Cochran Rogers, Samuel Edgar Rogers's youngest son and manager of the mill since almost its beginning, "politics was the way of the world," to quote Cowart, his daughter. Howard Rogers had been a Loudoun supervisor since 1920 and served in the House of Delegates from 1940 to 1945. His popularity reflected his honest brokerage at the mill.
The family remains on an easygoing keel. As Sam Rogers said, "We don't complain too much; we just roll with the punches."
Besides Loudoun County Milling, which still mixes and sells feed, the three other family mills — at Ellicott City and at Mount Joy and Palmyra, Pa. — produce flour for baking. It's still called Washington Flour in the stores and still has the Capitol dome logo on two- and five-pound bags.
Copyright © Eugene Scheel